It is well and truly Norse Season and there have been some pretty amazing posts online by so many people. Alex at Blogspells has put up some pretty awesome interviews, run some giveaways and have been a general awesome person organising all sorts of festivities for this month long read-a-thon. All of his blog posts can be found here (pssst… check out the Norse themed gift ideas!)
But Back to this blog, I have been nominated by the totally amazing Faye @Bookchocoholic to give my ideas on the Norsevember Book Tag. Her video on this can be found here… follow and subscribe!
So without further ado lets get raiding!!!
1 Longships – a book set at sea –
This is a Brilliant children's story set aboard a pirate ship. Flora the girl takes on the identity of Florian the man to earn the respect and protection of the crew. For Flora, former starving urchin, the brutal life of a pirate is about survival: don't trust, don't stick out, and don't feel. But on this voyage, as the pirates prepare to sell their unsuspecting passengers into slavery, Flora is drawn to the Lady Evelyn Hasegawa, who is en route to a dreaded arranged marriage with her own casket in tow. Flora doesn't expect to be taken under Evelyn's wing, and Evelyn doesn't expect to find such a deep bond with the pirate Florian.

Soon the unlikely pair set in motion a wild escape that will free a captured mermaid (coveted for her blood, which causes men to have visions and lose memories) and involve the mysterious Pirate Supreme, an opportunistic witch, and the all-encompassing Sea itself.
2 Horned Helmets – A book with a lot of metaphors
Ok so not the best example but THIS BOOK!!! Have I mentioned I LOVED Blade Runner (see previous post here). This book examines what it is like to be human, what is the essence of being human and ultimately can an android be classed as human even though everything the think and feel has been manufactured?
San Francisco lies under a cloud of radioactive dust. The World War has killed millions, driving entire species to extinction and sending mankind off-planet. Those who remained coveted any living creature, and for people who couldn't afford one, companies built incredibly realistic fakes: horses, birds, cats, sheep . . . even humans. Rick Deckard is an officially sanctioned bounty hunter tasked to find six rogue androids—they're machines, but look, sound, and think like humans—clever, and most of all, dangerous humans.
3 Spread Eagle – A gruesome book
A book that is about a serial killer… well it seems like it should be a pretty straight-forward book but this short read is more than just a 'serial killer book' it has ethical issues of Japans sex work laced through this. The characterisation is a juxtaposition which adds to the suspense and trying to understand Japan from a tourists point of view gives a fresh intake on travel.
It is just before New Year's. Frank, an overweight American tourist, has hired Kenji to take him on a guided tour of Tokyo's sleazy nightlife on three successive evenings. But Frank's behavior is so strange that Kenji begins to entertain a horrible suspicion: that his new client is in fact the serial killer currently terrorizing the city. It isn't until later, however, that Kenji learns exactly how much he has to fear and how irrevocably his encounter with this great white whale of an American will change his life.
4 Sheild maidens – Book with badass ladies!!
Let's be honest… there are THREE badass female leads in this book, LGBTQ+ representations and DRAGONS!!! This was a great read for me and even though it was a tome it was a rip-roaring epic fantasy that I just loved.
A world divided. A queendom without an heir. An ancient enemy awakens.
The House of Berethnet has ruled Inys for a thousand years. Still unwed, Queen Sabran the Ninth must conceive a daughter to protect her realm from destruction – but assassins are getting closer to her door.
Ead Duryan is an outsider at court. Though she has risen to the position of lady-in-waiting, she is loyal to a hidden society of mages. Ead keeps a watchful eye on Sabran, secretly protecting her with forbidden magic.
Across the dark sea, Tané has trained to be a dragonrider since she was a child, but is forced to make a choice that could see her life unravel.
Meanwhile, the divided East and West refuse to parley, and forces of chaos are rising from their sleep.
5 The halls of Valhalla – a book about death
It has been a LONG while since I read these graphic novels but I stop and think about these at least once every month. Here we have Death as a human figure, she is mysterious, cool, a rebel and was totally relateable to my younger self. I loved that Neil Gaiman added woven stories into this series. The art work is phenomenal and lends to the dream-like quality of the story telling.
In PRELUDES & NOCTURNES, an occultist attempting to capture Death to bargain for eternal life traps her younger brother Dream instead. After his 70 year imprisonment and eventual escape, Dream, also known as Morpheus, goes on a quest for his lost objects of power. On his arduous journey, Morpheus encounters Lucifer, John Constantine, and an all-powerful madman.
6 Odin – A book with gods at the centre
This was a book I recently picked up for #Norsevember and I totally LOVED it! Check out my review for The Gospel Of Loki here.
With his notorious reputation for trickery and deception, and an ability to cause as many problems as he solves, Loki is a Norse god like no other. Demon-born, he is viewed with deepest suspicion by his fellow gods who will never accept him as one of their own and for this he vows to take his revenge.

From his recruitment by Odin from the realm of Chaos, through his years as the go-to man of Asgard, to his fall from grace in the build-up to Ragnarok, this is the unofficial history of the world's ultimate trickster.
7 The nine realms – a book set in another world
THIS BOOK!! Gah this book gave me all the feels and the love and I just loved it! Possibly the best Sci-fi I have read in a LONG while and not the type of sci fi that has you guessing what the gadgets and technology are… It has real issues weaved into this tale of the future which include women's rights, mental health and LGBTQ+ rep like every book should have. I totally enjoyed The first Sister. I Cannot wait for the second book!
First Sister has no name and no voice. As a priestess of the Sisterhood, she travels the stars alongside the soldiers of Earth and Mars—the same ones who own the rights to her body and soul. When her former captain abandons her, First Sister's hopes for freedom are dashed when she is forced to stay on her ship with no friends, no power, and a new captain—Saito Ren—whom she knows nothing about. She is commanded to spy on Captain Ren by the Sisterhood, but soon discovers that working for the war effort is so much harder to do when you're falling in love.
Lito val Lucius climbed his way out of the slums to become an elite soldier of Venus, but was defeated in combat by none other than Saito Ren, resulting in the disappearance of his partner, Hiro. When Lito learns that Hiro is both alive and a traitor to the cause, he now has a shot at redemption: track down and kill his former partner. But when he discovers recordings that Hiro secretly made, Lito's own allegiances are put to the test. Ultimately, he must decide between following orders and following his heart.
8 Mitgard – A book set in our world
This book is an adaptation of the movie by the same name. It is written so so well and is woven with short stories that give even more depth to the link between our realm and the realm of the fairies. I chose this book for this tag because, even though it is set between two realms, it shows the start contrast between the real life world of Ophelia; the facsim and tyranny of the Spanish civil war and the seemingly dream like (sometimes sinnister) world of the Fairy king.
This spellbinding tale takes readers to a sinister, magical, and war-torn world filled with richly drawn characters like trickster fauns, murderous soldiers, child-eating monsters, courageous rebels, and a long-lost princess hoping to be reunited with her family.
A brilliant collaboration between masterful storytellers that's not to be missed.
9 Loki – A book that deceived you
This book was definitely one that made me go "WTF?!" on a number of occasions. If you have watched the Netflix adaptation it does NO JUSTICE to the book. I had dreams of extensions of this book and I still think about all the possibilities that could have occurred to the characters.
Area X has been cut off from the rest of the world for decades. Nature has reclaimed the last vestiges of human civilization. The first expedition returned with reports of a pristine, Edenic landscape; the second expedition ended in mass suicide, the third in a hail of gunfire as its members turned on one another. The members of the eleventh expedition returned as shadows of their former selves, and within weeks, all had died of cancer. In Annihilation, the first volume of Jeff VanderMeer's Southern Reach Trilogy, we join the twelfth expedition.

The group is made up of four women: an anthropologist; a surveyor; a psychologist, the de facto leader; and our narrator, a biologist. Their mission is to map the terrain, record all observations of their surroundings and of one another, and, above all, avoid being contaminated by Area X itself.

They arrive expecting the unexpected, and Area X delivers—but it's the surprises that came across the border with them and the secrets the expedition members are keeping from one another that change everything. 
10 The frozen north – A book with a cold setting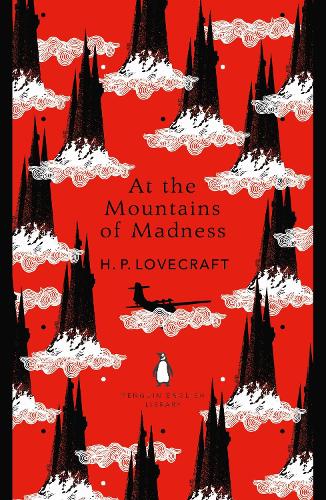 H.P. Lovecraft is a GENIUS! I loved the Call of Cthulhu and when I found this short story I breathed it in like a worn out book! It has the element of horror in it in a way that only a turn of the century author can capture ; like they say (they don't make em' like they used to).
The deliberately told and increasingly chilling recollection of an Antarctic expedition's uncanny discoveries –and their encounter with an untold menace in the ruins of a lost civilization–is a milestone of macabre literature.
So there we have my #Norsevember Book Tag!! If you have made it this far you are well and truly my raidnign buddy!!
I'd love to tag three people in this please go check out their blogs – they are amazing!!
Book Vagabond @osbourne_dean – https://bookvagabond.com/
Rowena @R_M_Andrews – https://beneathathousandskies.com/
Sue's Musings @SueBavey – https://suelbavey.wordpress.com/